JUNE 2022
Le Fameux Molière by Julien Joubert for choir & instrumental ensemble at Ferme du Manet, Montigny-le-Bretonneux (Yvelines-France)
Music: Julien Joubert &Text: Gaël Lépingle
Mise en scène: Manon Conan
Music director: Eulalie Buyck
Choir from the Pôle Musiques et Théâtre-Montigny-le-Bretonneux
Instrumental ensemble: Emmanuelle Rouaud (flûte traversière), Pierre Girault (trompette), Solène Roux (trombone), Virginie Turban (violon), Carole Carrive (violoncelle), Michel Fouquet (contrebasse), Davide Perrone (piano)

Date: 26 June, 15h
Location: Ferme du Manet, 61 avenue du Manet, 78180 Montigny-Le-Bretonneux
JUNE 2022
We just finished editing the latest issue of BAMBOO. Please check out the review/interview with Dai Fujikura whose Shakuhachi Concerto premiered in Rennes in April. It was just such a great experience to see the performance and hear the great Dozan Fujiwara on shakuhachi! (page 7 to 17)
APRIL 2022
Happy to announce the Teruo Furuya Online Workshop 2022 on the 16/17 April & 23/24 April. Teruo Furuya, director and principle instructor of the Kokusai Shakuhachi Kenshūkan (KSK) in Japan, will present the honkyoku pieces Hon Shirabe, Sanya Sugagaki, Reibo & Ukigumo as well as the modern pieces Miyama Higurashi by Fukuda Rando & Kokyo by Miki Minoru. Furthermore there are two contextual sessions dealing with notions surrounding honkyoku performance & technique. It is a full packed and exciting programme and it is an excellent opportunity to learn from one of the leading players active today!
For booking and more information visit: http://shakuhachi-atelier.com/events
Workshop dates: Sat/Sun 16/17.4 & Sat/Sun 23/24.4
Workshop times: 10h00 – 13h00 (tbc)
Fees: € 90
Teaching language: Japanese/English
Booking: http://shakuhachi-atelier.com/events
Technology: Zoom
Hope to see you there!
MARCH 2022
Concert with baroque orchestra & Ensemble Jubilate de Versailles (Yvelines-France)
conducted by Michel Lefèvre and with the soloists Gaël et Blanche Lefèvre (Incroyable talent!). We will play three magnificent works by M.A.Charpentier, J.J.Cassanéa de Mondonville & J.D.Heinichen.

Dates: the 22 March (Notre Dame de Versailles) & 24 March (Eglise Saint Roch, Paris).
Time: 20h45
More informations: www.ensemble-jubilate-Versailles.fr
DECEMBER 2021
Happy to announce the upcoming edition of BAMBOO!
OCTOBER 2021
Un automne au Japon – Demonstration of shakuhachi making & concert with shakuhachi, koto & shamisen. This day will features a demonstration of various processes involved in jiari shakuhachi making by the maker Thorsten Knaub and also introductions to the three Japanese instruments, shakuhachi, koto and shamisen at the Conservatoire Municipal de Musique in Saulx-les-Chartreux near Paris. In the evening there will be a concert and I will play the shakuhachi with Fumie Hihara (koto and shamisen) featuring sankyoku, shinkyoku and honkyoku music.
Date: 16 October 2021
Times introduction & demonstration: 16h30 – 18h30
Time concert: 20h30
Location: Salle Boris Vian, Conservatoire de Musique
49 rue de la Division Leclerc, 91160 Saulx-les-Chartreux (Essone-France)
JUNE 2021
Here is the Spring/Summer edition of BAMBOO. This time there is a major interview with the organisers of the World Shakuhachi Festival in China (WSF2022) as well we have an inside in how Japanese shakuhachi masters prepare for performance.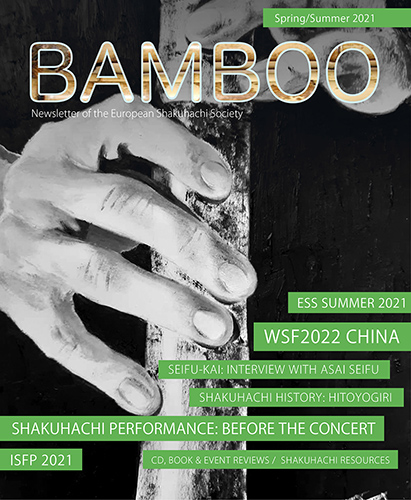 APRIL 2021
Normally the spring time brings with it the opportunity to meet for some of us in person at Teruo Furuya's workshop in Paris. This year that is not possible, but we are so grateful that our sensei will lead an 4-day online workshop in April instead.
Teruo Furuya, director and principle instructor of the Kokusai Shakuhachi Kenshūkan (KSK), will present honkyoku as transmitted through KSK, modern composition by Fukuda Rando and sessions on technique. This is a excellent opportunity to learn from one of the leading players active today. All levels welcome.
Workshop places are limited to about 16 places to have an efficient size of the participants' group and allow as much interaction as possible within the online teaching framework.
Workshop dates: Sat/Sun 17/18.4 & Sat/Sun 24/25.4
Workshop times: 10h00 – 13h00
Fees: € 80
Teaching language: Japanese/English
Booking: http://shakuhachi-atelier.com/events
Technology: Zoom
Any questions please let us know. (info@shakuhachi-atelier.com) Hope to see you there!
And please feel free to share to anyone you think might be interested. Thanks!
FEBRUARY 2021
Great fun to teach a session on Shingetsu at the ESS NowHere II online festival this weekend. There were about 60+ participants for NowHere II, thanks for being there and thanks, of course, to the organisers.

DECEMBER 2020
Having been elected to the European Shakuhachi Society (ESS) committee as one of the ESS newsletter's publishing team with Thorsten Knaub, we just finished editing the first issue under the new name of BAMBOO. Enjoy!
NOVEMBER 2020
NowHere II – European Shakuhachi Society Winter Festival
Following on from the very successful online event in August, the ESS will be holding a 2-day online Winter NowHere II Festival in February 2021 showcasing some of the finest players and teachers from Japan and Europe.

I am very happy to be teaching the honkyoku Shingetsu from the Kokusai Shakuhachi Kenshūkan tradition. Saturday, February 6th at 13h00 CET

There will be two guests from Japan – John Kaizan Neptune and Mizuno Kohmei, as well as other teachers from Europe: Hélène Seiyu Codjo, Antonio Enzan Olías and Christophe Kazan Gaston.

More info and registration here: http://nowhere2021.shakuhachisociety.eu
OCTOBER 2020
W.A.Mozart – Concert show for wind quintet & narrator, schools performance & concert at Salle J. Brel in Montigny-le-Bretonneux (Yvelines-France)
Text, mise en scène & narrator: Kénan Desaldeleer
Wind quintet: Emmanuelle Rouaud (flûte traversière), Hélène Ducros (hautbois), Jean-Marc Pasco (clarinette), Sébastien Roca (cor) & Pierre Walter (basson)
Date: 2 October 2020
Time (pupils only): 9h30-11h30 & 14h30-16h30 / Time concert: 20h
Location: Jacques Brel Room, 4 rue de la mare aux Carats, 78180, Montigny-le-Bretonneux
SEPTEMBER 2020
Videos from the concert on 12 March (just before the lockdown started) are now on Teruo Furuya's YouTube channel:
MARCH 2020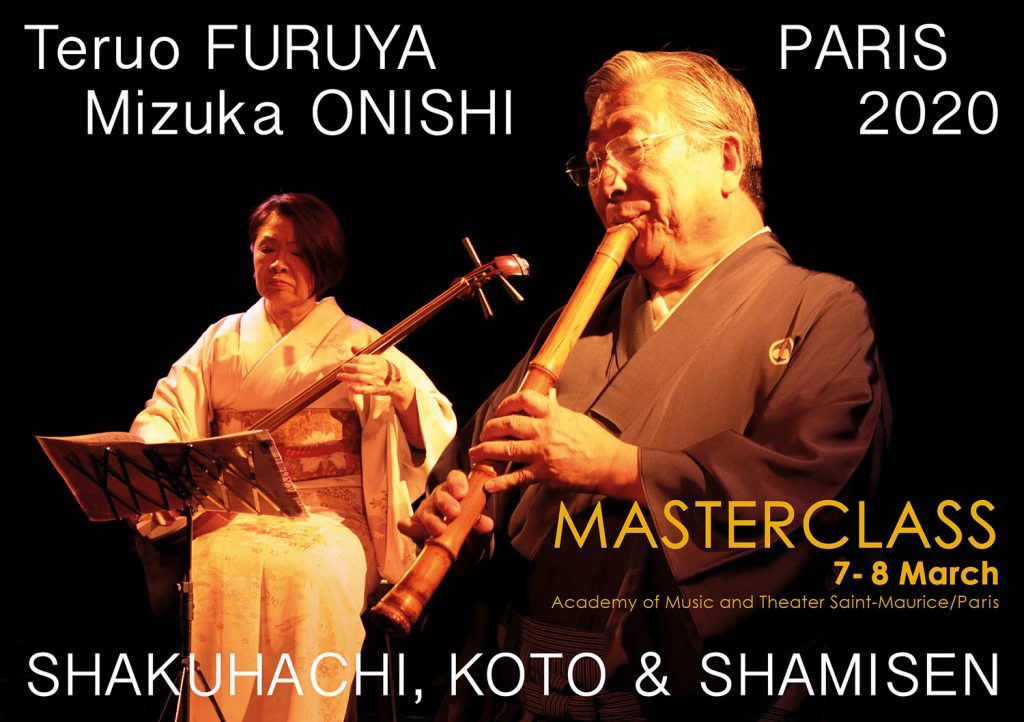 We are excited to announce our 2020 Masterclass with Teruo FURUYA (shakuhachi), director and principal instructor of the Kokusai Shakuhachi Kenshūkan (KSK) in Japan and Mizuka ONISHI (koto/shamisen), recipient of the Tottori Prefecture Cultural Achievement Award 2020, in Saint-Maurice (Paris). The dates are the weekend of the 7 & 8 March and for the location we will return to the Academy of Music and Theater of Saint Maurice.
As in previous years the masterclass will again offer an opportunity to study honkyoku pieces from the Katsuya YOKOYAMA lineage as transmitted through the Kenshūkan and from the wider KSK repertoire. This years' pieces will be the two honkyoku Koku and Sagariha, the sokyoku Haru no Kyoku and the modern Fukuda RANDO composition Tabibito no Uta. For registered participants we will send you photocopied scores and sound files in due course.
DATES & LOCATION
Saturday 7 & Sunday 8 March
Olivier Messiaen Academy of Music and Theater Saint-Maurice
The François Devienne Auditorium
30 bis rue du Maréchal Leclerc, 94410 Saint-Maurice/Paris
M° line 8, Charenton-Écoles or École Vétérinaire-Maison-Alfort
SCHEDULE
Master class 10h00 – 17h30
Koto/Shamisen class 10h00 – 12h30
Lunch break 12h30 – 14h00
FEES
Shakuhachi 1 DAY = € 75 / 2 DAYS = € 140
Koto/Shamisen 1 DAY = € 60 / 2 DAYS = € 110
You are welcome to come to the masterclass for 'listening only' (€ 20 per day)
ENROLMENT AND FURTHER INFORMATION
To reserve your place at the Masterclass 2020 or for any questions please contact us at furuya.masterclass[at]gmail.com. Fees to be paid on the first day in cash.
You can find all the info as PDF here
Hope to see you there!
Emmanuelle, Katsura, Thorsten
DECEMBER 2019
Discover the Traditional Music of Japan
A 3-day event to discover the world of traditional Japanese music throughout the centuries, from the Edo period through to today through three of its emblematic instruments: shakuachi, koto and shamisen.

Thursday, December 12, 2019
Exploring the shakuhachi and Japanese songs with school groups from Montigny-le-Bretonneux (pupils only)
Emmanuelle Rouaud – shakuhachi
Eulalie Buyck – director of choir
Time: 9h-11h
Location: tba

Friday, December 13, 2019
Concert at the Franco-Japanese Cultural Institute of Montigny-le-Bretonneux (reserved for students of the Institute)
Emmanuelle Rouaud – shakuhachi
Naoko Kikuchi – koto, shamisen
Time: 14h-15h
Location: 7 Rue Jean Pierre Timbaud, 78180 Montigny-le-Bretonneux

Presentation and demonstration of koto, shamisen and shakuhachi (free admission)
Naoko Kikuchi – koto, shamisen
Emmanuelle Rouaud – shakuhachi
Time: 18h-19h30
Location: Jacques Brel Room, 4 rue de la mare aux Carats, 78180, Montigny-le-Bretonneux

Saturday, December 14, 2019
Concert/Lecture, 11h
Naoko Kikuchi – koto, voice and shamisen
Emmanuelle Rouaud – shakuhachi
Location: Canal Mediatheque, Quai François Truffaut, 78180 Montigny-le-Bretonneux

Winter Concert – Traditional Japanese Music, 20h30
Part 1: Ensemble for silver flute, guitars and harps, Japanese music workshop, children's choir and theater group cycle (Sotoba Komachi – Five modern Nô plays by Yukio Mishima)
Student actors, directed by Manon Conan
Part 2: Concert – Emmanuelle Rouaud (shakuhachi) and Naoko Kikuchi (koto & shamisen)

Location: Jacques Brel Room, 4 rue de la mare aux Carats, 78180, Montigny-le-Bretonneux
Free admission, on reservation within the limits of available places.
Information: 01 30 64 15 73
SEPTEMBER 2019
I visited Japan in August/September to take part in the Kokusai Shakuhachi Kenshūkan's 30-year anniversary festival. It was such a interesting and great time traveling in Japan. In particular I was happy to be one of the selected 10 finalists in the "Competition of Honkyoku classics handed down by Master Yokoyama Katsuya" at the Bisei Kankyo Kaizan Center at August 29, 2019, where I performed Daha. The six competition judges were Furuya Teruo, Matama Kazushi, Sugawara Kuniyoshi, Kakizakai Kaoru, Ishikawa Toshimitsu and Okada Michiaki.
JUNE 2019
Lola et Le Petit Facteur – musicals by Dominique Baduel
Musical director & mise en scène: Patricia Leduc
Choir director: Patricia Leduc & Eulalie Buyck
Choir from the Pôle Musiques et Théâtre-Montigny-le-Bretonneux
Instrumental ensemble: Emmanuelle Rouaud (flûte traversière, flûte alto & shakuhachi), Rafael-Lino Markov (guitare & accordéon), Pierre-Alexandre Fare (batterie), Laure Burckard (percussions), Michel Fouquet (contrebasse), Jean-Paul Teyssier (piano)
Date: 30 June 2019, 15h
Location: Ferme du Manet, 61 avenue du Manet, 78180 Montigny-Le-Bretonneux
APRIL 2019
Tuesday, April 9, 2019
Concert – Musique du Japon with Teruo Furuya & Mizuka Onishi
Special invitees Emmanuelle Rouaud, Katsura Creasion

Date: 9 April, 20h30
Location: Centre Mandapa, 6 Rue Wurtz, 75013 Paris / M° : Glacière or Corvisart (line 6)
MARCH 2019
La Belle et la Bête (The beauty & the beast)
Music by Diane Baysang & Frédéric Unterfinger adapted from Mme de Beaumont's tale
Narrator: Kenan Desaldeleer
Instrumental ensemble: Emmanuelle Rouaud (flûte traversière), Hélène Ducros (hautbois), Carole Carrive (violoncelle) & Annabelle Seguin (accordéon)
Dates: 11 & 22 March 2019, 20h
Location: Jacques Brel Room, 4 rue de la mare aux Carats, 78180, Montigny-le-Bretonneux
FEBRUARY 2019
Concert around the works of Henri Paget (composer & organist).
I will play Licht for flute & organ, Asa no Mezame for flute alto solo and Fantasie for flute, violin & organ with Frederik Jongejans, violon and Henri Paget, organ
Date: 17 February, 16h30
Location: Eglise Sainte-Jeanne de Chantal, 96 boulevard Murat, Paris 16 / M°: Line 9
JANUARY 2019
Concert Hommage à Marcel Chapuis (1930-2017)
"Ses mains étaient comme des racines" (third day)
I will play Licht for flute & organ by Henri Paget (composer & organist)
Date: 19 January, 17h
Location: Eglise Saint Séverin, 2 rue des Prêtres Saint-Séverin, Paris 5
AUGUST 2018
August 1-4, 2018
World Shakuhachi Festival 2018 London – World Premier of Henri Algadafe's composition I Thought About Eva for koto and shakuhachi as part of the New Horizons/Frank Denyer concert. Performed by Emmanuelle Rouaud (shakuhachi) and Takahashi Gaho (koto)

Date: 3 August, 13h00
Location: Great Hall, Richard Hoggart Building, Goldsmiths University of London, 8 Lewisham Way, London SE14 6NW