FEBRUARY 2021
Great fun to teach a session on Shingetsu at the ESS NowHere II online festival this weekend. There were about 60+ participants for NowHere II, thanks for being there and thanks, of course, to the organisers.

NOVEMBER 2020
NowHere II – European Shakuhachi Society Winter Festival
Following on from the very successful online event in August, the ESS will be holding a 2-day online Winter NowHere II Festival in February 2021 showcasing some of the finest players and teachers from Japan and Europe.

I am very happy to be teaching the honkyoku Shingetsu from the Kokusai Shakuhachi Kenshūkan tradition. Saturday, February 6th at 13h00 CET

There will be two guests from Japan – John Kaizan Neptune and Mizuno Kohmei, as well as other teachers from Europe: Hélène Seiyu Codjo, Antonio Enzan Olías and Christophe Kazan Gaston.

More info and registration here: http://nowhere2021.shakuhachisociety.eu
SEPTEMBER 2020
Videos from the concert on 12 March (just before the lockdown started) are now on Teruo Furuya's YouTube channel:
MARCH 2020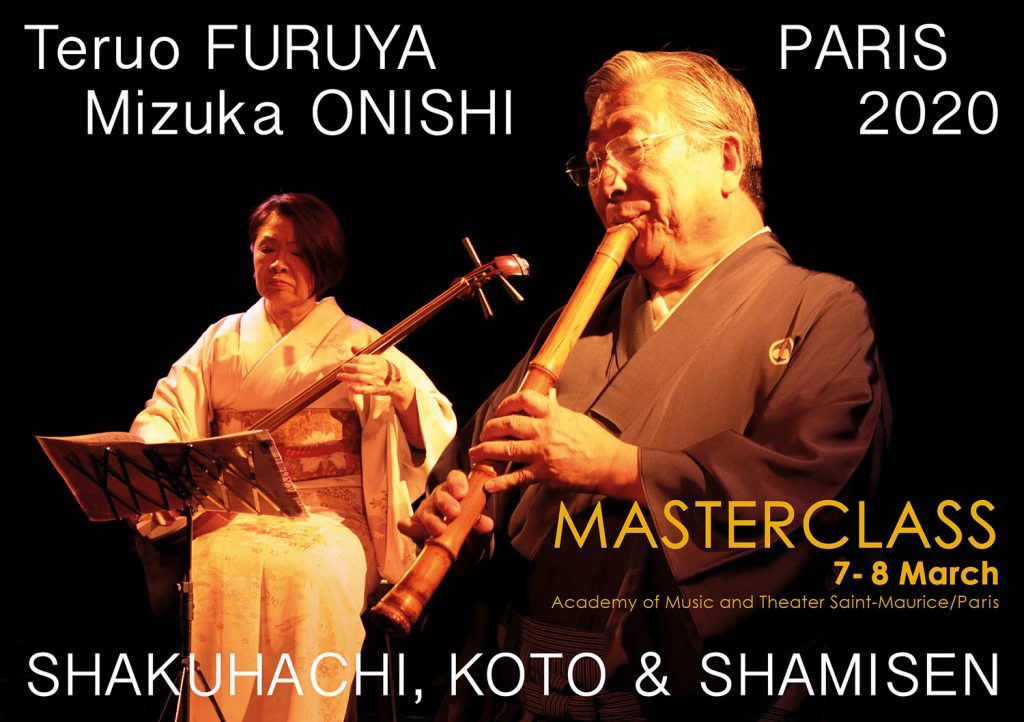 We are excited to announce our 2020 Masterclass with Teruo FURUYA (shakuhachi), director and principal instructor of the Kokusai Shakuhachi Kenshūkan (KSK) in Japan and Mizuka ONISHI (koto/shamisen), recipient of the Tottori Prefecture Cultural Achievement Award 2020, in Saint-Maurice (Paris). The dates are the weekend of the 7 & 8 March and for the location we will return to the Academy of Music and Theater of Saint Maurice.
As in previous years the masterclass will again offer an opportunity to study honkyoku pieces from the Katsuya YOKOYAMA lineage as transmitted through the Kenshūkan and from the wider KSK repertoire. This years' pieces will be the two honkyoku Koku and Sagariha, the sokyoku Haru no Kyoku and the modern Fukuda RANDO composition Tabibito no Uta. For registered participants we will send you photocopied scores and sound files in due course.
DATES & LOCATION
Saturday 7 & Sunday 8 March
Olivier Messiaen Academy of Music and Theater Saint-Maurice
The François Devienne Auditorium
30 bis rue du Maréchal Leclerc
94410 Saint-Maurice/Paris

Metro line 8, Charenton-Écoles or École Vétérinaire de Maison-Alfort
SCHEDULE
Master class 10h00 – 17h30
Koto/Shamisen class 10h00 – 12h30
Lunch break 12h30 – 14h00
FEES
Shakuhachi 1 DAY = € 75 / 2 DAYS = € 140
Koto/Shamisen 1 DAY = € 60 / 2 DAYS = € 110
You are welcome to come to the masterclass for 'listening only' (€ 20 per day)
ENROLMENT AND FURTHER INFORMATION
To reserve your place at the Masterclass 2020 or for any questions please contact us at furuya.masterclass[at]gmail.com. Fees to be paid on the first day in cash.
You can find all the info as PDF here
Hope to see you there!
Emmanuelle, Katsura, Thorsten
DECEMBER 2019
Discover the Traditional Music of Japan
A 3-day event to discover the world of traditional Japanese music throughout the centuries, from the Edo period through to today through three of its emblematic instruments: shakuachi, koto and shamisen.

Thursday, December 12, 2019
Exploring the shakuhachi and Japanese songs with school groups from Montigny-le-Bretonneux (pupils only)

Emmanuelle Rouaud – shakuhachi
Eulalie Buyck – director of choir
Time: 9h-11h
Location: tba

Friday, December 13, 2019
Concert at the Franco-Japanese Cultural Institute of Montigny-le-Bretonneux (reserved for students of the Institute)

Emmanuelle Rouaud – shakuhachi
Naoko Kikuchi – koto, shamisen
Time: 14h-15h
Location: 7 Rue Jean Pierre Timbaud, 78180 Montigny-le-Bretonneux

Presentation and demonstration of koto, shamisen and shakuhachi (free admission)

Naoko Kikuchi – koto, shamisen
Emmanuelle Rouaud – shakuhachi
Time: 18h-19h30
Location: Jacques BREL Room, 4 Rue de la Mare aux Carats, 78180, Montigny-le-Bretonneux

Rehearsal for Theater Sotoba Komachi (Five modern Nô plays by Yukio Mishima)
Student actors, directed by Manon Conan
Time: 19h30-20h30
Location: Jacques BREL Room, 4 Rue de la Mare aux Carats, 78180, Montigny-le-Bretonneux

Saturday, December 14, 2019
Concert/Lecture

Naoko Kikuchi – koto, voice and shamisen
Emmanuelle Rouaud – shakuhachi
Time: 11h Location: Canal Mediatheque, Quai François Truffaut, 78180 Montigny-le-Bretonneux

Winter Concert – Traditional Japanese Music

Part 1: Ensemble for silver flute, guitars and harps, Japanese music workshop, children's choir and theater group cycle
Part 2: Concert – Emmanuelle Rouaud (shakuhachi) and Naoko Kikuchi (koto, shamisen)

Time: 20h30
Location: Jacques BREL Room, 4 Rue de la Mare aux Carats, 78180, Montigny-le-Bretonneux
Free admission, on reservation within the limits of available places. Information: 01 30 64 15 73
SEPTEMBER 2019
I visited Japan in August/September to take part in the Kokusai Shakuhachi Kenshūkan's 30-year anniversary festival. It was such a interesting and great time traveling in Japan. In particular I was happy to be one of the selected 10 finalists in the "Competition of Honkyoku classics handed down by Master Yokoyama Katsuya" at the Bisei Kankyo Kaizan Center at August 29, 2019, where I performed Daha. The six competition judges were Furuya Teruo, Matama Kazushi, Sugawara Kuniyoshi, Kakizakai Kaoru, Ishikawa Toshimitsu and Okada Michiaki.
APRIL 2019
Tuesday, April 9, 2019
Concert – Musique du Japon with Teruo Furuya & Mizuka Onishi
Special invitees Emmanuelle Rouaud, Katsura Creasion

Date: 9 April, 20h30
Location: Centre Mandapa, 6 Rue Wurtz, 75013 Paris
M° : Glacière ou Corvisart (ligne 6)
AUGUST 2018
August 1-4, 2018
World Shakuhachi Festival 2018 London – World Premier of Henri Algadafe's composition I Thought About Eva for koto and shakuhachi as part of the New Horizons/Frank Denyer concert. Performed by Emmanuelle Rouaud (shakuhachi) and TAKAHASHI Gaho (koto)

Date: 3 August, 13h00
Location: Great Hall, Richard Hoggart Building, Goldsmiths University of London, 8 Lewisham Way, London SE14 6NW